Birds have a reputation for being noisy and loud. This is natural as birds vocalize loudly to warn each other of predators or to attract a mate. However, not all birds scream, either because of smaller lungs or because they are naturally gentle.
Quiet birds make great pets, especially for:
Apartment dwellers, especially those with roommates
Introverts
People with health issues
Families with kids and elderly people
People with hectic lives, like students and work-from-home professionals
For Beginners
Budgerigars
While Budgies might seem like an odd choice for a quiet bird, these colorful birds can only chitter and cannot scream like larger birds. However, a group of budgies might, on occasion, produce a lot of noise collectively if they all chitter at once.
These small parrots are not known to cause a racket as they only chirp at low volumes, with females tending to be quieter than males. Despite this, these gray and yellow birds are fun pets thanks to their affectionate nature and quirky personalities.
Canaries
Canaries, specifically the males, are known for the beautiful melodies they sing. However, the volume of their singing is quiet, so people are not likely to be disturbed. As a matter of fact, due to their solitary nature, canaries can be housed in small cages, which keeps their vocal range to a minimum.
One of the most common finches kept as a pet is also one of the quietest. However, they do make beeping sounds throughout the day, which, while not loud, can be annoying to certain people.
Due to their small size and lung capacity, Pacific Parrotlets cannot screech or scream. They still make charming pets and form close bonds with their owners. However, if kept in a group, multiple parrotlets may occasionally chatter together, leading to a loud noise. But this behavior is rare.
Gouldian Finches
Mainly known for its fantastic plumage, which consists of several colors like red, blue, purple, green, and yellow, the Gouldian Finch is also one of the quietest finches. They only make small chirps to communicate that should not disturb most people.
For Experienced Owners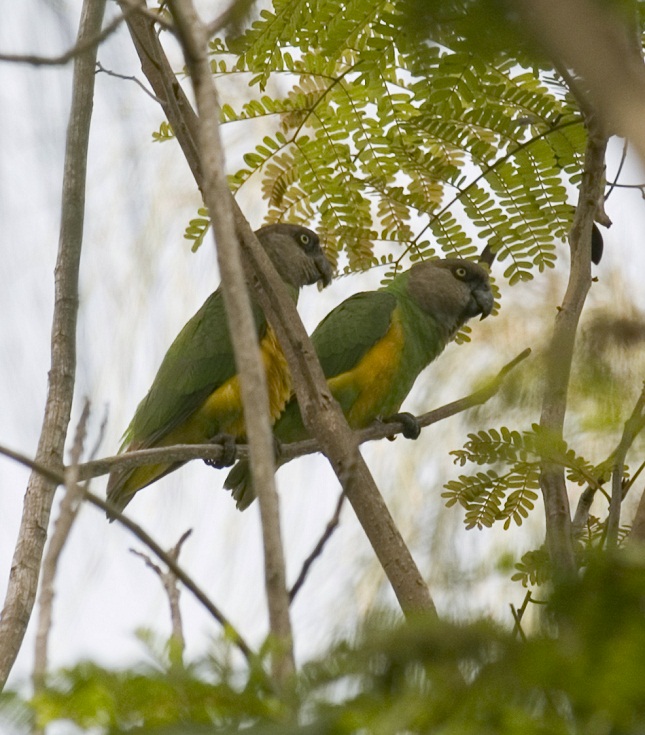 The Senegal Parrot is unusually quiet for a medium-sized parrot. These green and brown birds tend to be calm and dignified and like to hang out with their favorite people. They occasionally make a loud noise if disturbed but only do so as a last resort.
The multicolored Bourke's Parakeet is a quiet and gentle bird. They require a bit of space as they are active in the mornings and need to fly around but tend not to be too loud otherwise. Even when they chatter, their call has been described as a "soft twitter."
The Diamond Dove is an Australian dove that makes a cooing sound to communicate, similar to other doves and pigeons. However, its small size makes it a better choice as an indoor pet, and its coos aren't too loud to disturb any neighbors.
Buttonquails
These brown birds are not for everyone, as they can be messy indoor pets. But they only coo and meep when trying to communicate, making them a great quiet bird to keep as a pet. They do require a lot of training before they become friendly.
While the parrots belonging to this genus have a reputation for not being friendly, they require a lot of interaction with their owners before they display affection. They are shy and quieter compared to Amazon parrots, making them an excellent pet for introverts. The parrots of this genus most commonly kept as pets include the Blue-headed Parrot, the White-capped Parrot, and the Scaly-headed Parrot.
Lineolated Parakeets
While this Central and South American parakeet is known for making shrill noises, it is usually not to an annoying degree. These green birds tend to be calm and easygoing by nature and only call out a few times throughout the day.
It is worth noting that even among quiet birds, individual specimens might be more vocal, as a bird's personality and training affect its vocalization. On the flip side, if a bird makes no noise at all, it might be a sign of trauma or an illness.