Whether you are going on vacation or simply need to take your feathery friend to the vet for a check-up, it is essential to transport your bird in a comfortable, spacious, and safe carrier. Birds get stressed very easily so finding the right carrier is important for the health of your pet. There are two types of bird carriers from which to choose – a bird backpack or soft bird carrier and a travel cage, both of which provide safety and comfort for your bird.
Bird Backpacks vs. Travel Cages
When to Go for a Carrier Backpack
Bird carrier backpacks are designed for safely transporting birds on short journeys. They can be used as a backpack, a shoulder bag, a front pouch, or as a car seat that straps into the car. They are lightweight, compact, and easy to store, and generally feature a wooden perch and attachments for a water bottle and toys.
Carrier backpacks are best for traveling by car, bus, or train and outdoor activities like hiking, or biking.
When to Go for a Travel Cage
Travel cages are generally recommended for transporting birds on longer expeditions such as flights or sea cruises as they act as comfortable housing for the bird during the journey.
Travel cages are sturdier that carrier backpacks, lightweight and robust, and generally made from aluminum. They have swing doors for easy access for placing food and water and are versatile enough to be able to transport other pets such as cats and small dogs.
Things to Consider When Buying a Bird Carrier
There are three main factors to consider when looking for the right bird carrier.
Size
The size of your carrier will depend on the size of the bird. It is very important to get a carrier that has enough space for your bird to move around and not feel claustrophobic.
Material
Be sure to select a bird carrier that is made from high-quality materials and one that will last the lifespan of your bird or longer. Poorly made carriers carry the risk of breaking and possibly injuring your bird or allowing it to escape.
Maintenance Requirement
Carriers made of sturdy materials require low maintenance.
There is a wide range of bird carriers on the market catering for all types of activities. Some bird carriers come with protective coverings to prevent your bird from being exposed to the cold, rain, or too much heat. This is a good choice if you are planning to take your bird on outdoor activities like hiking and biking. If you are taking your bird on a domestic or international flight, be sure to check whether the carrier is airline-approved to make the experience as hassle-free as possible for yourself.
5 of the Best Bird Carrier Backpacks
Top Pick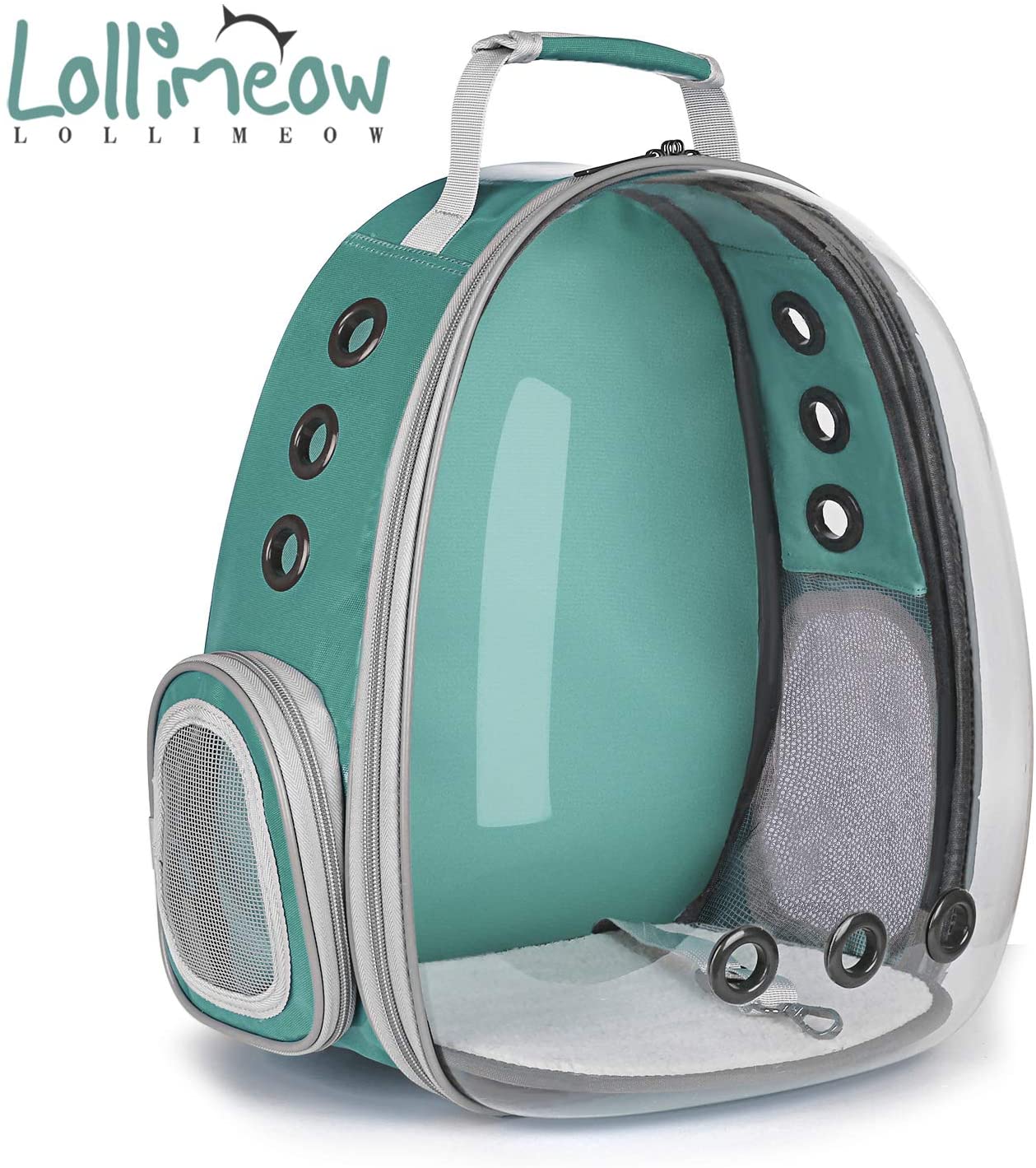 Lollimeow Pet Carrier Backpack
Pros
The backpack is made with high-quality, durable materials, is lightweight, waterproof, well-ventilated, and easy to clean.  It has side openings for petting and side pockets for keeping snacks. A built-In security leashadds additional safety and a clear front window offers visual stimulation for the bird while traveling. The backpack is airline approved for under-seat travel.
Cons
The carrier can get slightly hot and stuffy in warm weather, and the front window scratches quite easily. The ventilation mesh is made from fabric, which can be chewed or torn by bored or naughty birds.
Final Word
Overall, a fantastic backpack for carrying birds with plenty of space and ventilation, being easy to carry as well.
Top Pick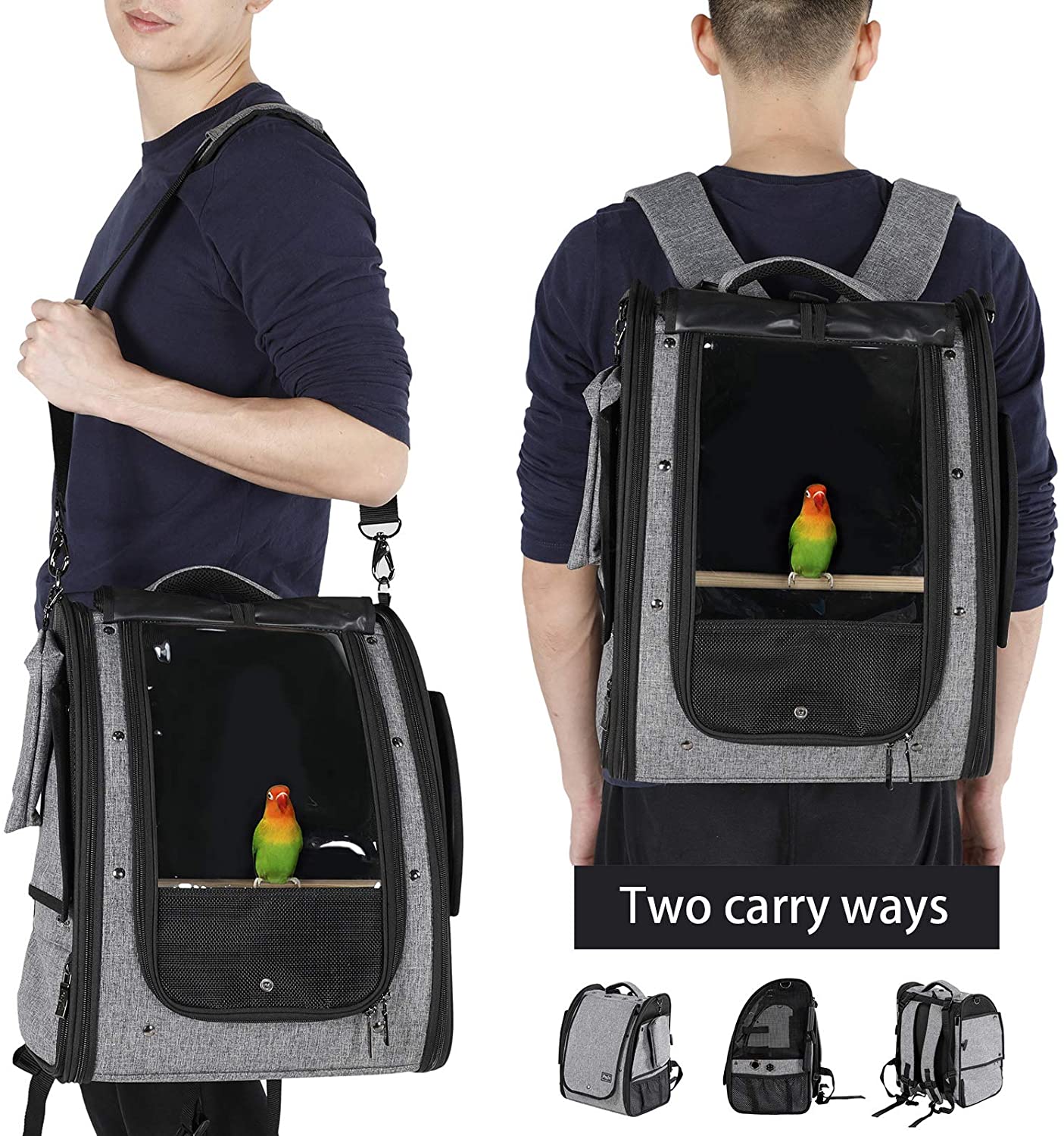 Petsfit Bird Carrier with Stainless Steel Bowl
Pros
It can be carried on the back or as a side bag and features a portable perch and a car buckle for securing during car travel. The carrier has four top holes that provide excellent ventilation and convenient side flaps to shade harsh light. It also has a removable and washable bowl for easy feeding and a bottom sliding tray for easy cleaning.
Cons
The perch is designed for smaller birds and is made from wood so tends to be slippery.
Final Word
This is an outstanding product that is highly versatile, made with high-quality materials and features everything needed for a safe and comfortable ride for your bird.
Top Pick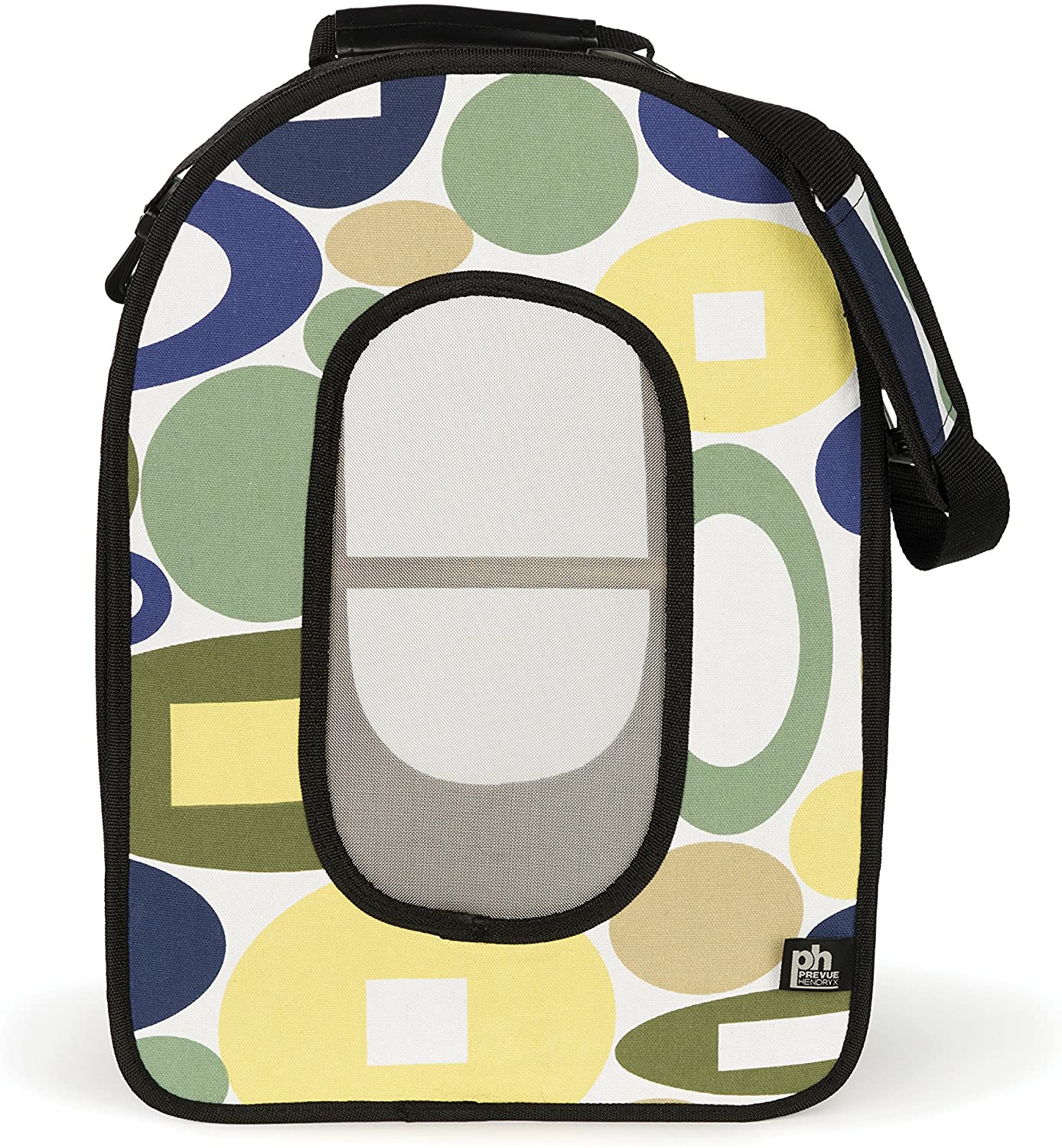 Prevue Pet Products Soft Sided Bird Travel Carrier
Pros
It is made with durable, double-stitched fabric so has a long lifespan and a breathable wire mesh window allows for good ventilation and visual stimulation for the bird. It is easy to carry with an integrated handle and a detachable shoulder.
Cons
It has a wooden perch, which can be slippery for the bird and there are too many hanging hooks for toys. This carrier is not suitable for long journeys or extended periods.
Final Word
A sturdy, spacious, and comfortable carrier for small to medium-size birds and perfect for trips to the vet and short journeys.
Top Pick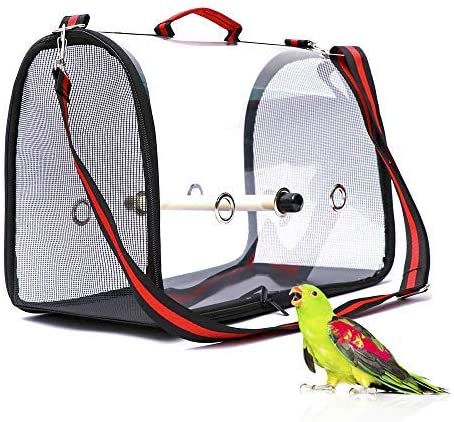 BENZHI Bird Travel Carriers
Pros
Its unique design allows for the bird to enjoy 360˚ panoramic views and for you to check on them. It is portable and lightweight with both hand and shoulder carrying options and has four ventilation slots to ensure adequate airflow. This carrier is ideal for daily use and short trips.
Cons
There is no option for shading the bird and it could get quite hot in warm weather. It is not very large so would only be suitable for small birds. It is not suitable for long journeys or extended travel.
Final Word
A great all-round carrier for daily use with good ventilation, plenty of light, and dual carrying options.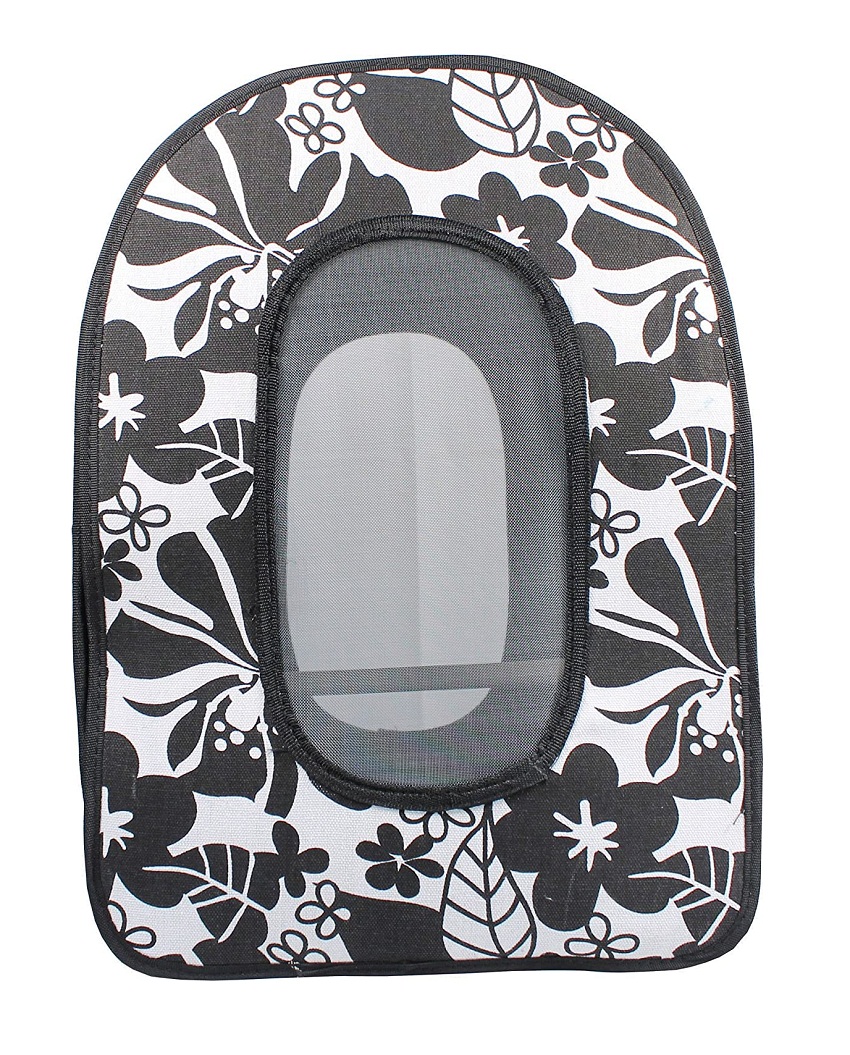 A&E Cage Company Soft Sided Bird Travel Carrier
Pros
The large mesh inserts on both sides of the bag provide good ventilation and visual stimulation. It is easy to carry with a top handle and snap-on shoulder strap for hands-free carrying. The removable interior floor covering makes for easy cleaning.
Cons
The plain wooden perch is kind of slippery. The carrier is only available in patterned fabrics with no plain or monotone options. There are no brackets for secure fastening during car travel.
Final Word
An excellent, inexpensive choice for transporting small to medium-size birds on short trips with plenty of ventilation and easy-to-carry options.
5 Of the Best Portable Bird Travel Cages
Top Pick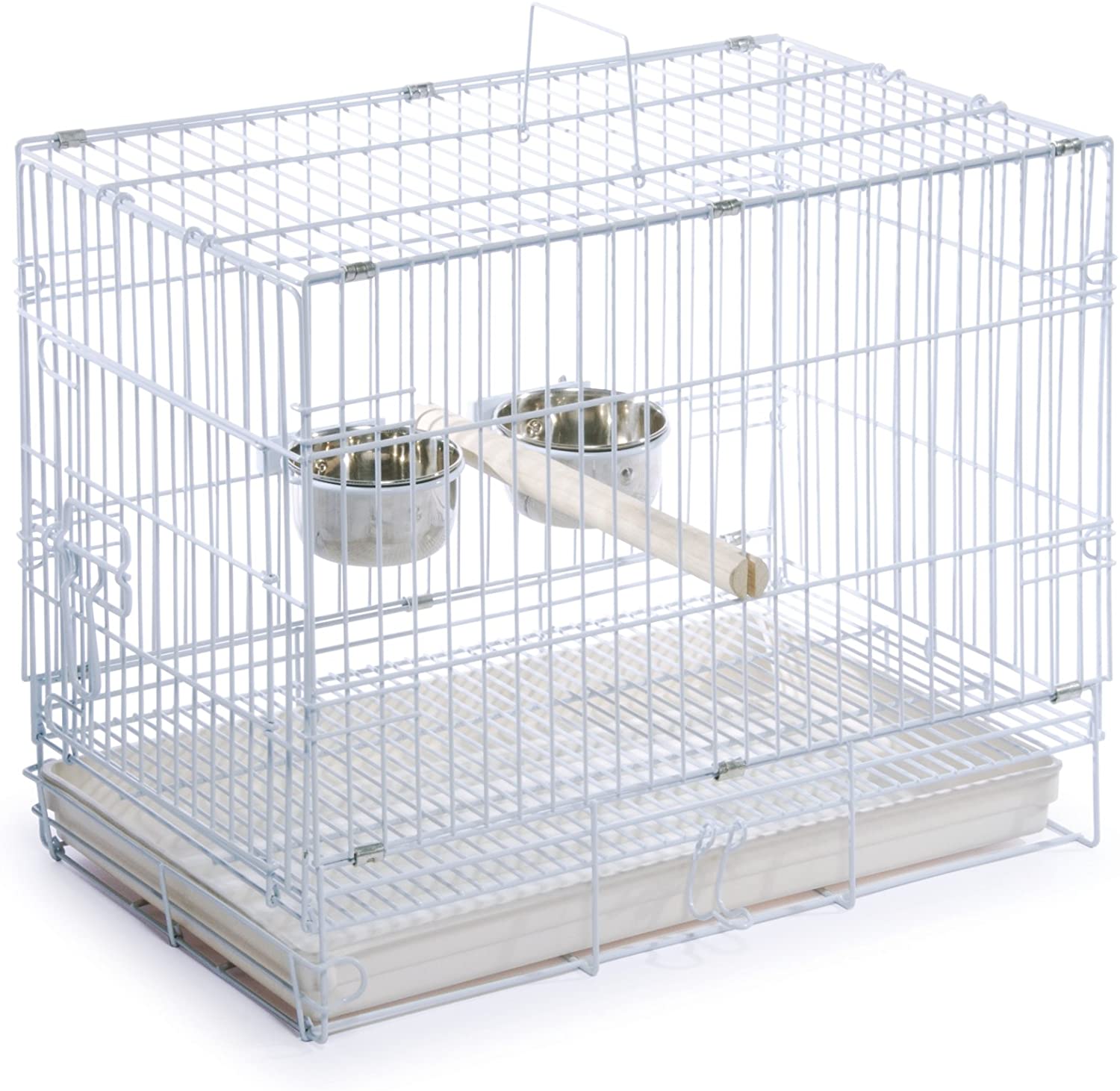 Prevue Hendryx Travel Bird Cage
Pros
The removable bottom tray is great for effortless cleaning and the cage can be folded flat for convenient storage.
Cons
The wooden dowel perch is slippery for birds. The cage is not suitable for small birds.
Final Word
An excellent traveling cage for medium-to-large-sized birds with side doors for easy access and foldable design for storage purposes.
Top Pick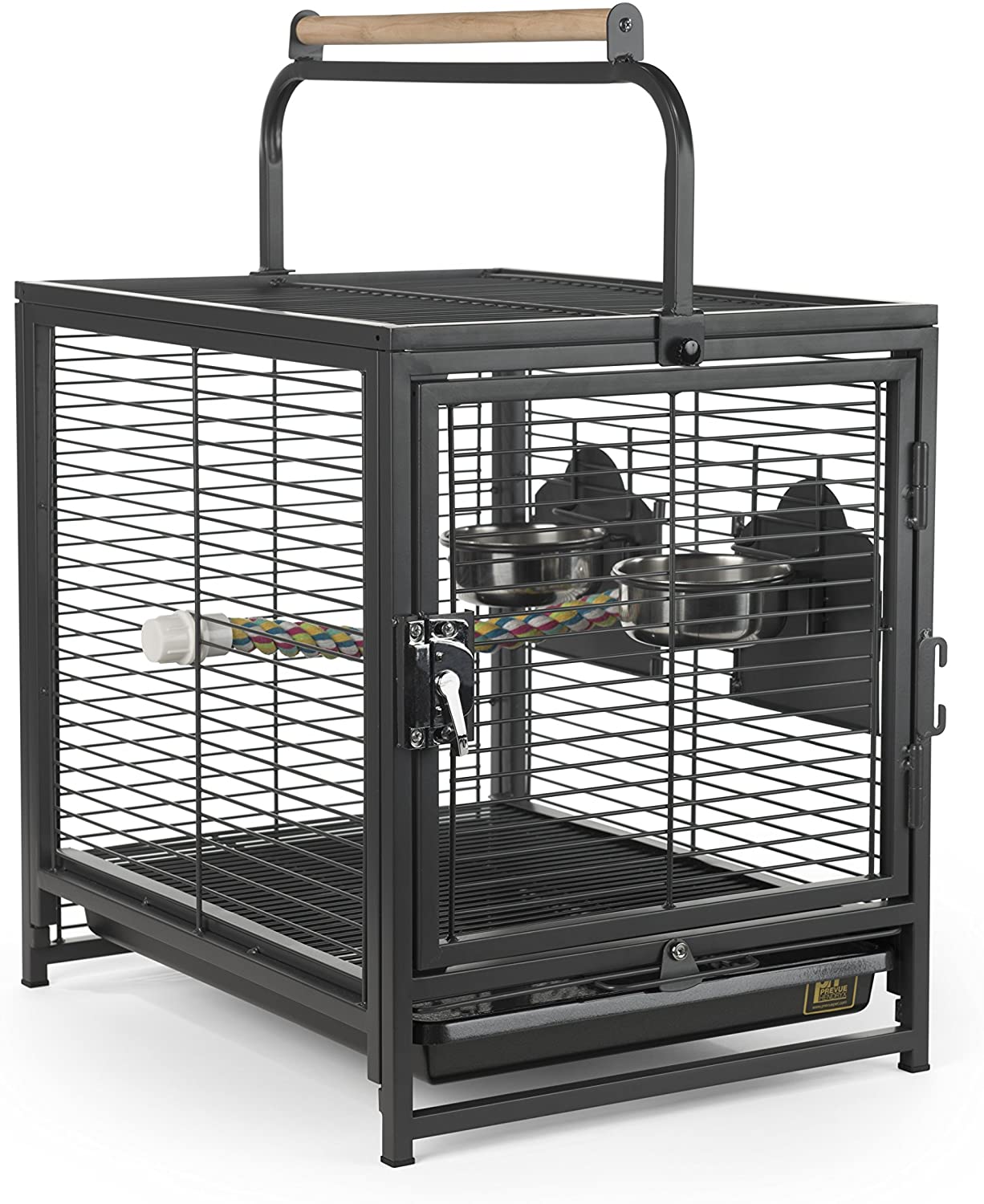 Prevue Pet Products Travel Carrier for Birds
Pros
It is very sturdy and rust-resistant with welded bracket seatbelt collars for safe automotive travel. There are innovative lock-in-place cups to prevent dislodging and spilling and a shapeable rope perch which offers good traction for the bird. A removable bottom tray is good for convenient cleaning.
Cons
It tends to be quite bulky and heavy when carried. The four small feet on the bottom of the cage have the possibility of damaging the car seat during automotive travel. Pricier than it's other counterparts.
Final Word
Sturdy, safe, and secure option for daily transportation of small to medium birds with plenty of ventilation and no-spill bowls.
Top Pick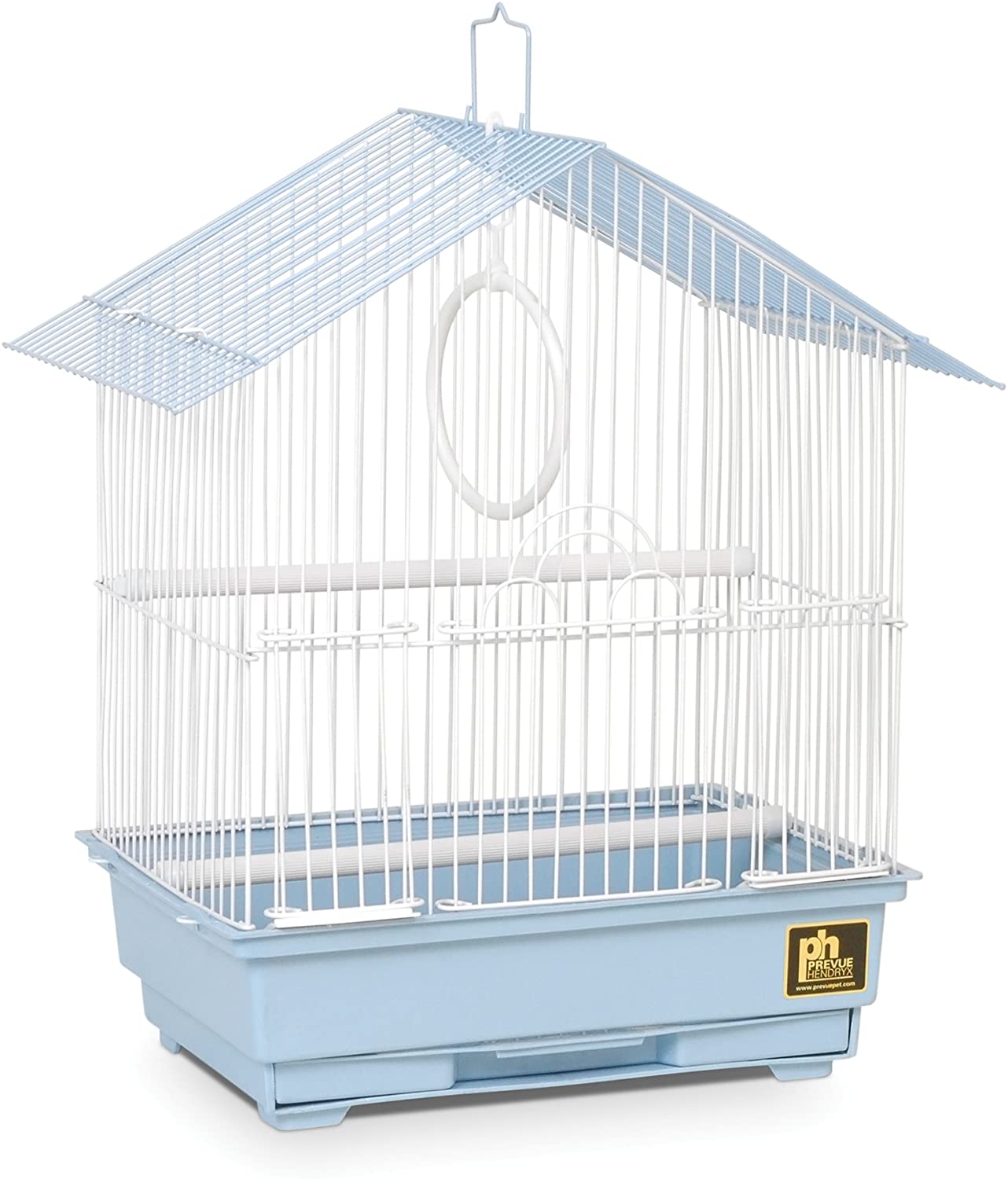 Prevue Pet Products Economy Bird Cage
Pros
This is a fantastic budget-friendly and economical cage for transporting small birds. It has a removable tray for easy cleaning, and plenty of ventilation, visual stimulation, and light.
Cons
The carrying handle can become uncomfortable after a while and there is no covering for shade or protection from the elements. This cage is only suitable for small birds.
Final Word
A good, budget-friendly travel cage for small birds that is perfect for short trips.
Top Pick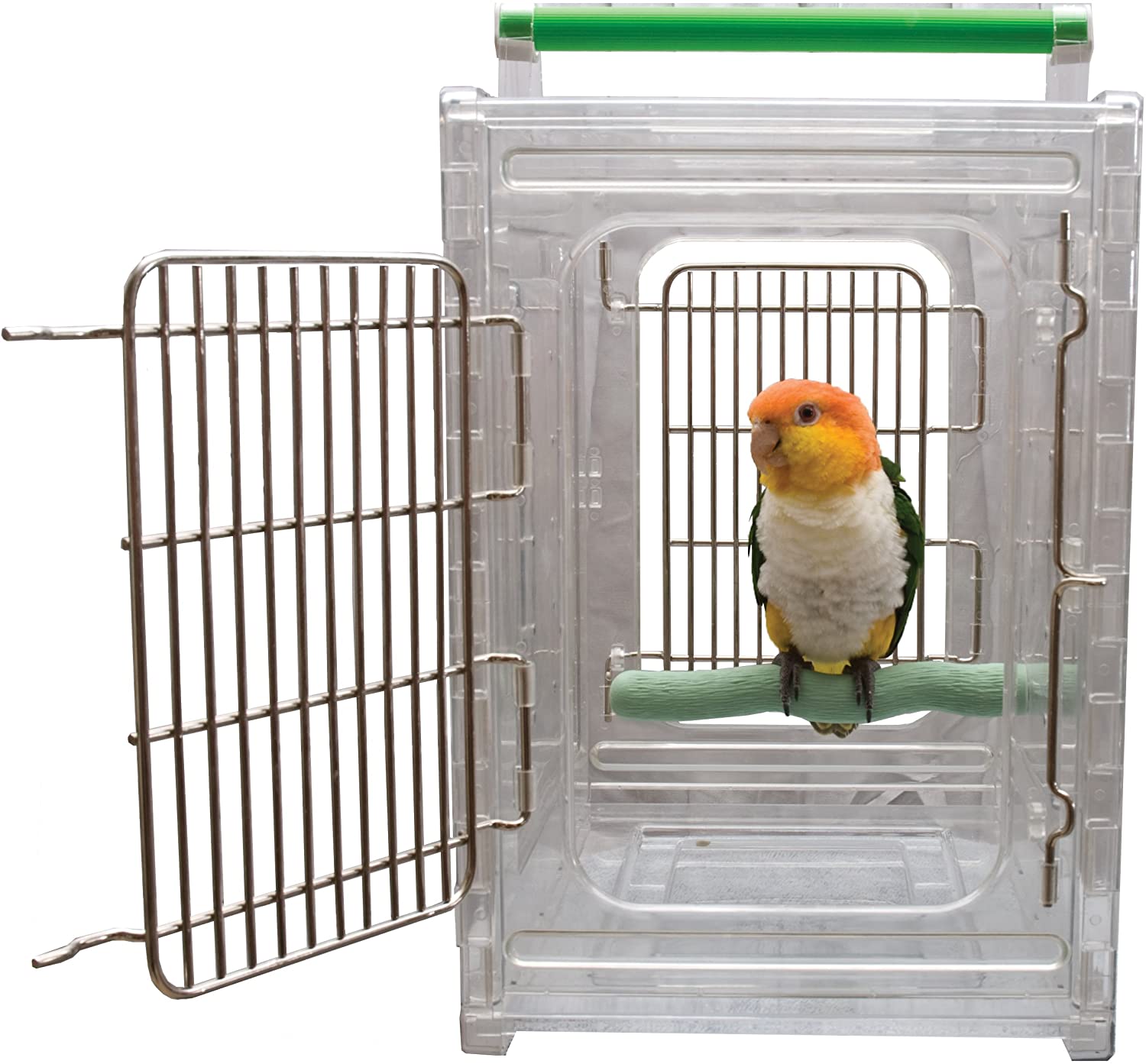 CaitecPerch & Go Polycarbonate Bird Carrier
Pros
This is a sturdy and unbreakable cage with good ventilation from two grille doors and parrot-proof latches. It has a comfortable, solid handle for carrying and is easy to assemble with press-fit construction.
Cons
The plastic perch does not provide good traction and the cage is fairly pricey.
Final Word
A solid, sturdy cage with plenty of light, air, and visual stimulation for small to medium birds.
Top Pick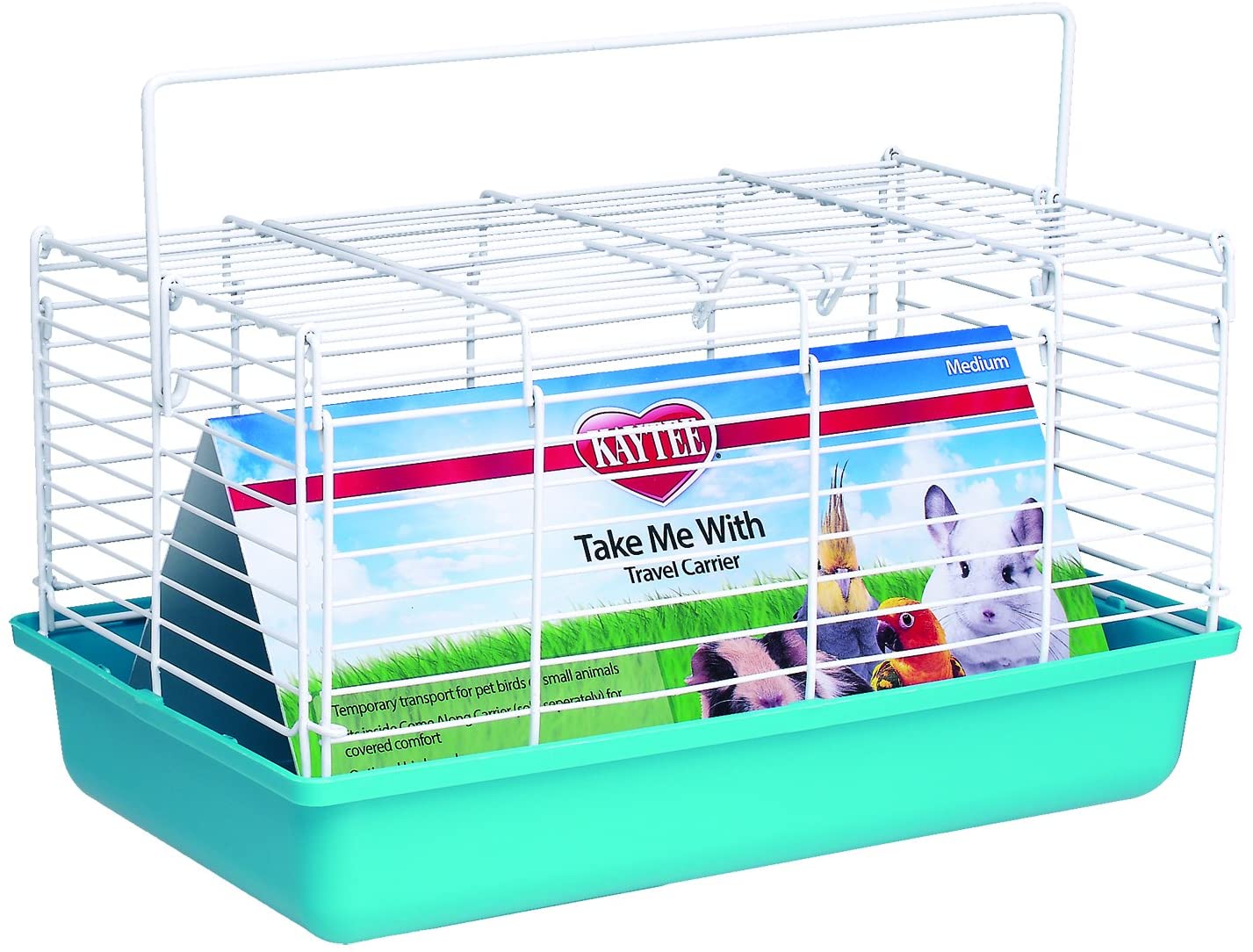 Kaytee Me Travel Carrier
Pros
This cage is ideal for small birds and a good budget-friendly option. It has a large handle for comfortable carrying.
Cons
Even the medium-size cage is very small and has minimal space for movement. The grooved bottom tray in the cage makes for difficult cleaning. It is not suitable for long journeys.
Final Word
A good, basic, and budget-friendly option for transporting small birds on short trips.