Keeping birds entertained in their cage environment is important as excessive boredom can make them pluck at their feathers, refuse food, or even vocalize excessively. One way to engage them is to get toys for their dwelling, and the addition of a swing might make your task of keeping them physically and mentally energized a little easier.
When chosen carefully it helps to increase flexibility in birds by strengthening their leg muscles and wings.
The vivid guide given below would assist you to make a careful selection while buying a swing for your bird.
Things to Keep in Mind When Buying a Bird Swing
Durability
Birds could get over-energetic in exploring the newfound toy in their cage and may end up putting all their force in swaying to and fro. The swing should be strong and sturdy, and not break down or get damaged quickly.
Wooden swings are durable and also come at a reasonable price. However, those with an improper finish having uneven edges or sharp pieces sticking out could cause injury to the bird.
Rope swings are also well-built, and natural ropes last longer than the synthetic ones, which wear and tear easily.
PVC and stainless steel swings are the most durable of all but rarely used due to their high price.
Size
The size of the swing depends on the availability of space in the cage. A swing when smaller than the cage gives the birds liberty to move around freely.
The bird's size also determines how big or small a swing would be. Parakeets and lovebirds require small swings, while bigger species like macaw need a medium-sized or large one.
Stability
The swing's stability depends on how it is fixed to the cage.
Those hanging from a single point are more common. They provide scope for a lot of movement in different directions, but maintaining balance might be tough particularly if it is made from a lightweight material. Trapeze and cave swings are more durable and firm than the other single hanging ones.
Swings suspended from two points appear more stable, but if the cage is small hanging it from two or multiple points could get difficult.
Appearance and Attachments
If you want your bird's "swinging experience" to be fun-filled and entertaining you can go for swings with hanging toys and wooden blocks. Most of them enjoy the mirrors and tinkling bells that come as accessories.
Bright, colorful swings catch the bird's attention instantly. When it comes to design, cave, and trapeze swings, have a more natural feel as its shape is similar to their nest.
Top 7 Bird Swings
Top Pick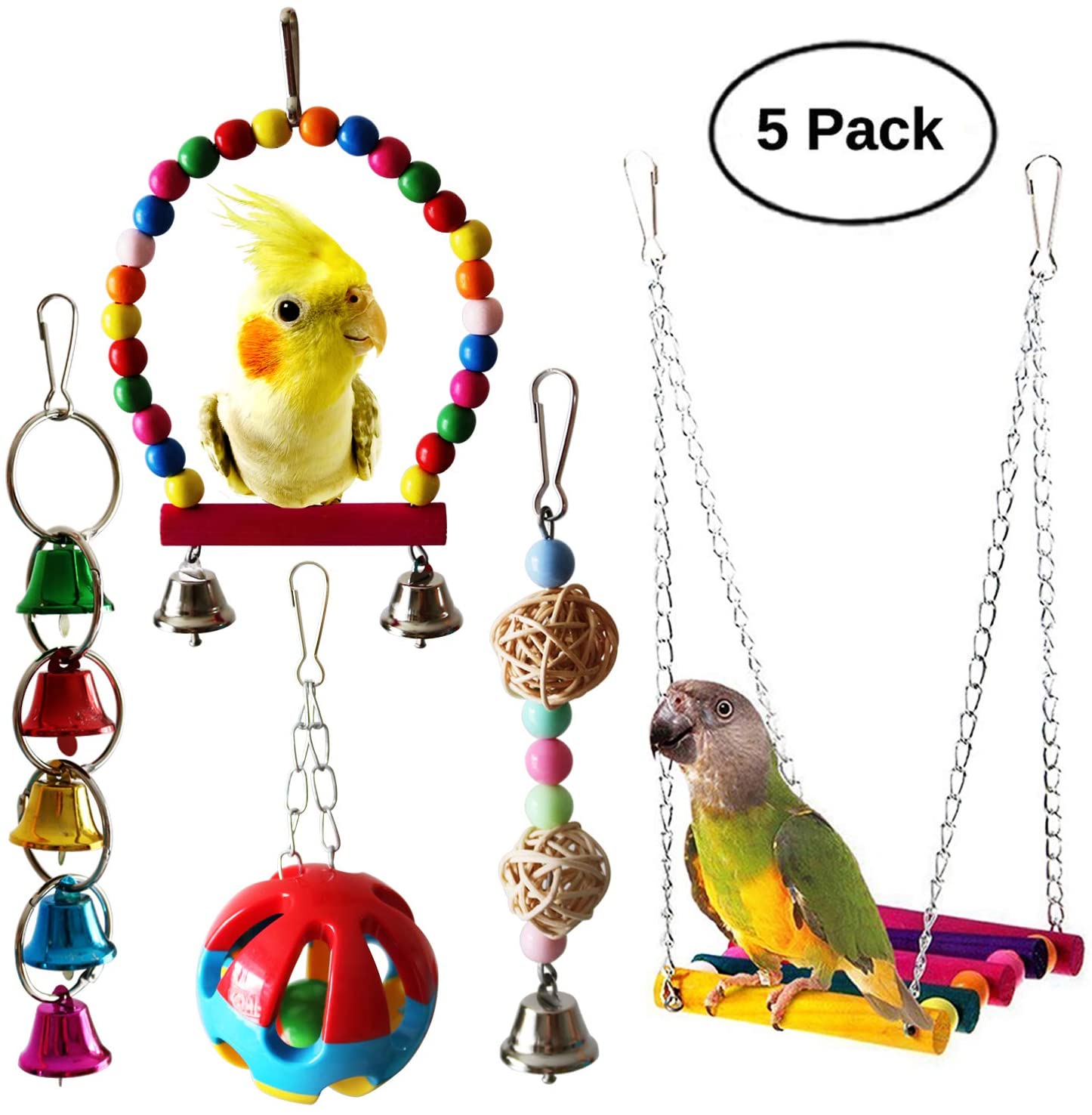 BWOGUE 5pcs Bird Parrot Toys Hanging Bell, Bird Cage Hammock, Swing Toy
Pros
The swing made of natural wood has a multi-colored appearance. It is durable and the steel hooks attached to the swing helps it fit into the cage easily. The hanging bells and balls that come along make it all the more attractive. It provides a stabilized movement since it remains suspended from two points.
Cons
Supervision is needed when the bird plays with the bells as their beak could get stuck into it, resulting in trouble.  The chimes could come out easily if loosely fixed, resulting in a choking hazard. Though it is meant to be for small and medium-sized birds, some owners have found the swing too small for their parakeets.
Final Word
This well constructed colorful swing helps in providing birds ample entertainment physically and mentally.
Top Pick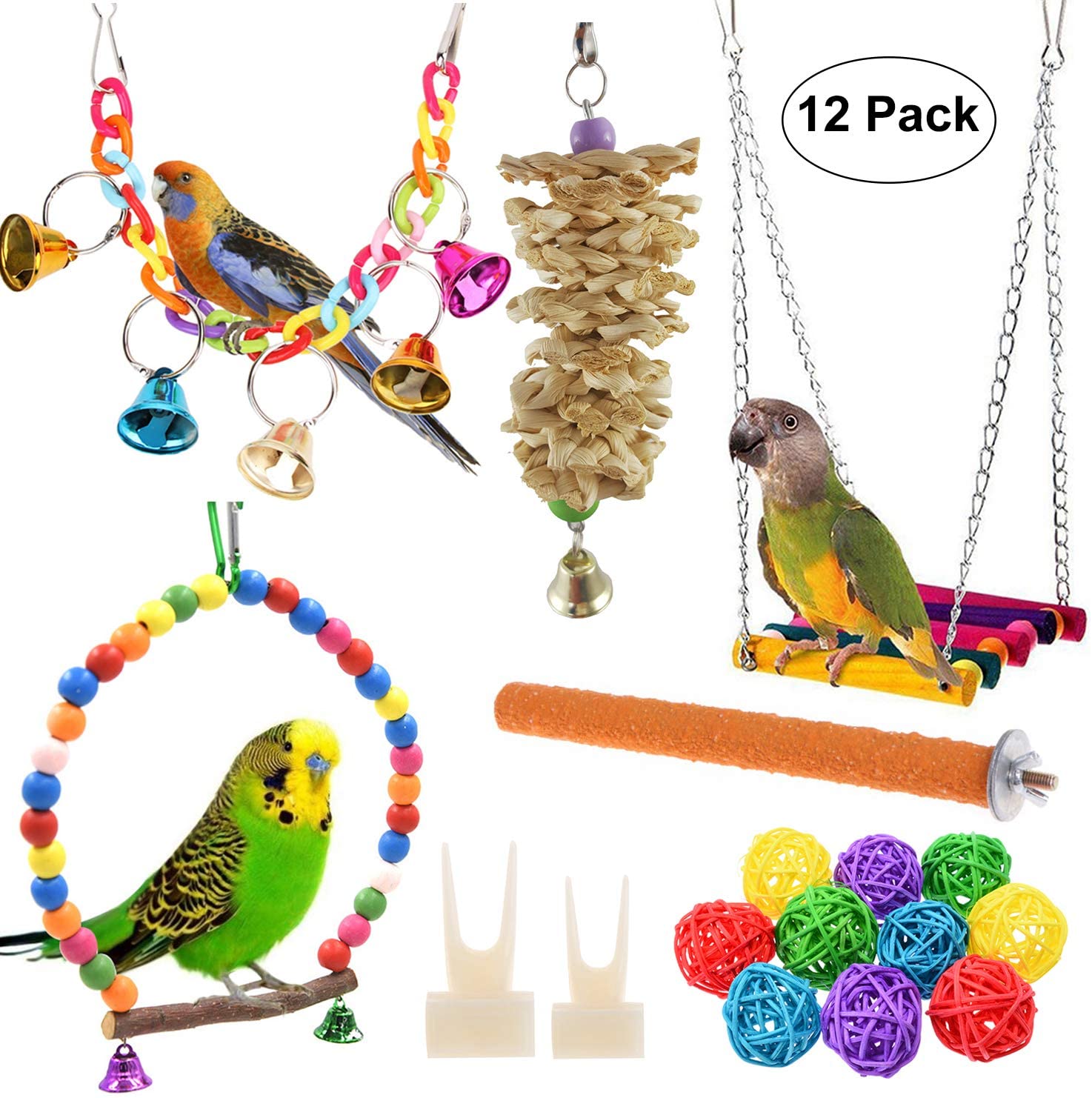 Anteer 12 Packs Bird Swing and Chewing Toys
Pros
The swing and accessories are available at an affordable price and buying the toys included in this combo individually would cost more. The active hooks help in the easy installation of the swing.  This bird-safe multi-functional swing, made of natural wood is apt for small species like parakeets.
Cons
It is unsuited for big birds like macaw and medium-sized ones as the sun conure, contrary to what is mentioned in the product description. The packaging seems a little unsteady since some of the materials within appear a little tangled, difficult to detach.
Final Word
On the whole, the colorful swing with the easy-to-chew toys gives the bird the needed comfort and amusement it desires.
Top Pick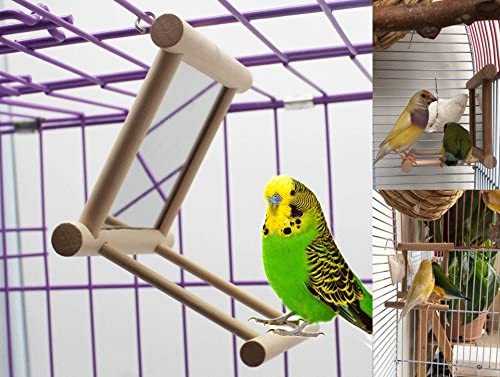 Old Tjikko Bird Swing with Mirror
Pros
It has many big rings that provide the bird ample scope to hop from one to the other. The hanger-like attachment to which the rings are fixed helps one to hang it anywhere as per their convenience. The prime attraction is the mirror, and many owners have mentioned how much their pets enjoyed while admiring themselves in front of it.
Cons
Though it claims to be a single-piece product, some buyers had had to assemble it since it came in separate parts.
Final Word
Durable and sturdy, this one is apt for parakeets, cockatiels, and several small species. You may have to supervise your bird and remove it right away if you find it getting defensive on seeing its reflection.
Top Pick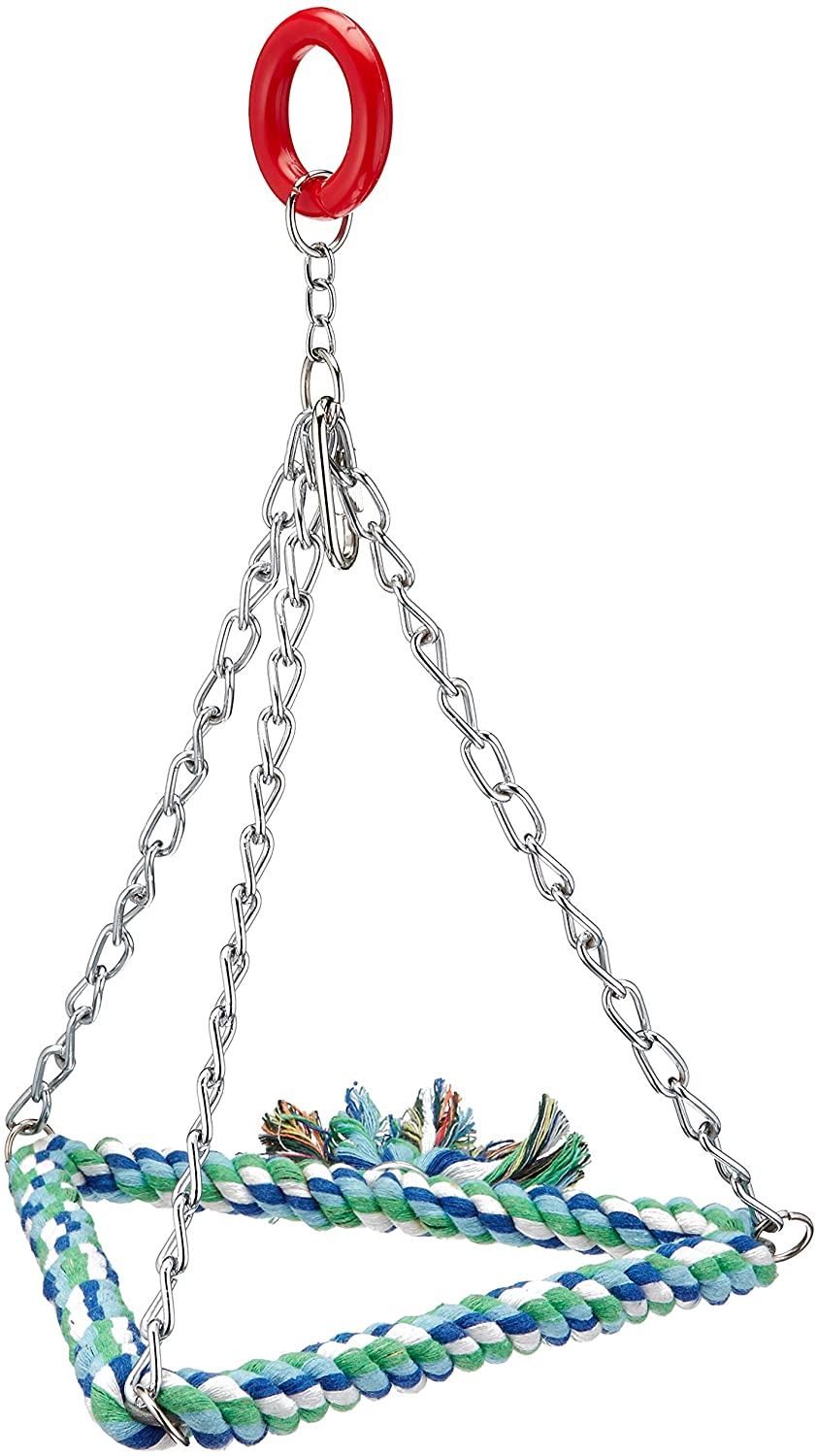 Featherland Paradise Hanging Bird Swing, Cotton Rope Wrapped
Pros
Durable, and strong this triangular swing is available at a reasonable price. The soft cotton rope gives the birds comfort also allowing them to grasp onto it securely. It comes in different sizes, suitable for not just small but also medium-sized species.  It is large enough to accommodate three to four of them at a time, and no one would have to fight for their share of space.
Cons
Parts of the metal rod running through the rope remains exposed at the corner, posing harm for birds that chewy heavily. The sizes given on the product labels might not match the actual measurement of the bird. An owner said that his parakeet needed the medium swing and not the small one he had initially bought on seeing the dimensions of the product.
Final Word
The perch-styled swing imitates the branches of a tree, giving the bird a feeling of their natural homes.
Top Pick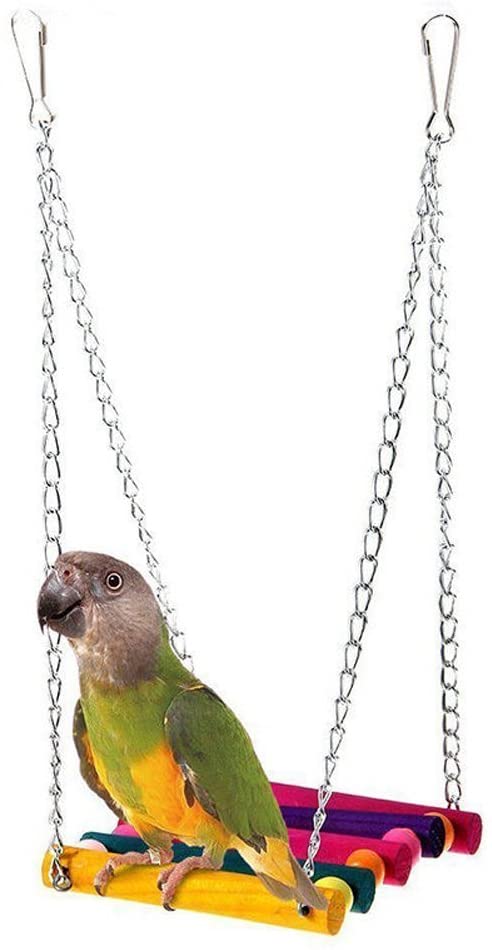 Vktech Pet Bird Cage Hammock Swing Toy Hanging Toy
Pros
This swing is ideal for parakeets, lovebirds, cockatiels and parrotlets. The bars have gaps in between through which the droppings fall instead of staining the swing, making it easily cleanable.
Cons
Some do not consider it a good option for birds that chew a lot as the metal attached is made of zinc. The chain is slightly shorter than the product's picture, causing inconvenience to the birds when they sit on it.
Final Word
Made from five wood pieces, each with a unique color, this easy-to-install swing stands a fair chance of being a suitable addition to your bird's cage.
Top Pick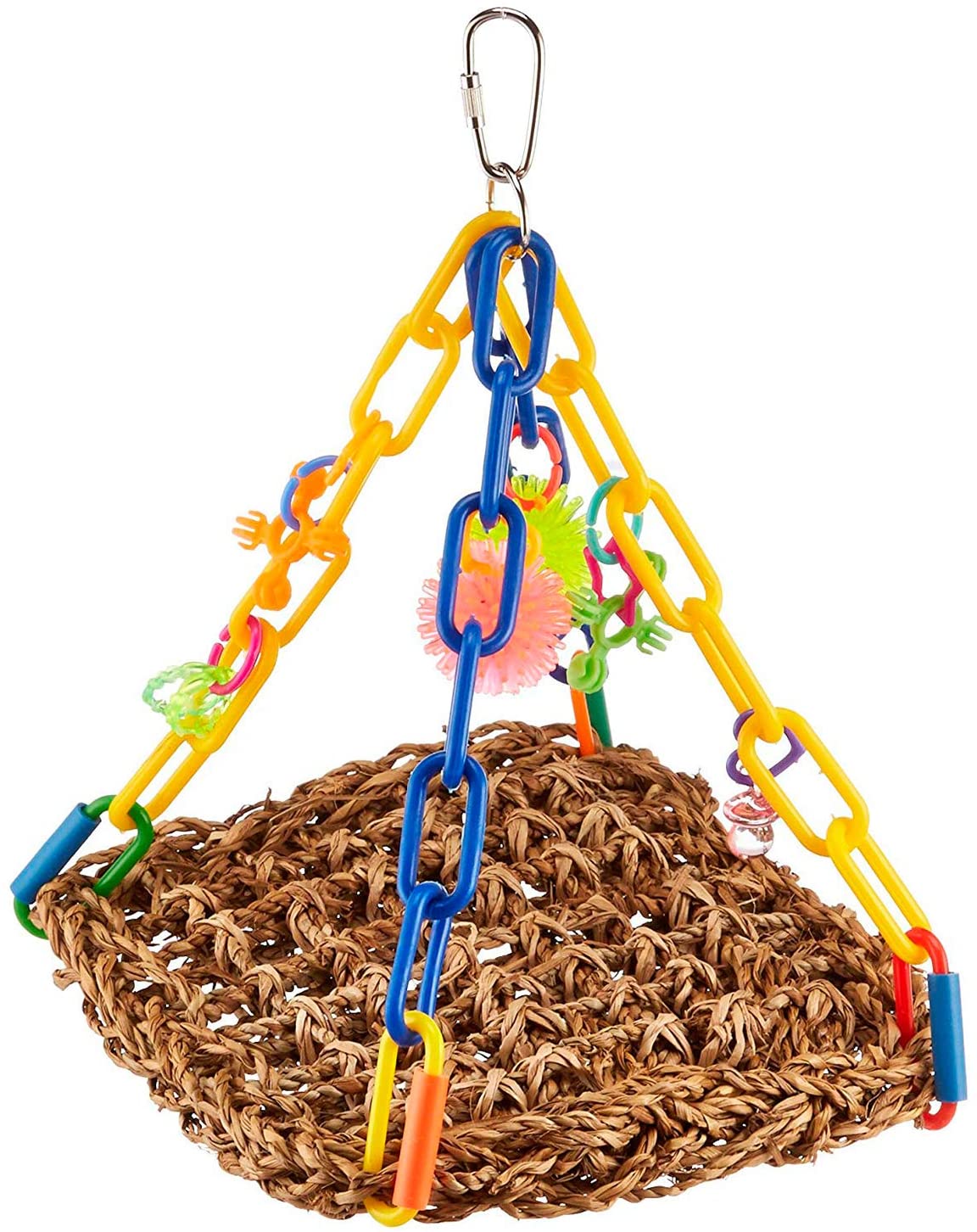 Super Bird Creations Mini Flying Trapeze
Pros
The seagrass mat suspended with colorful chains is a safe-chew material and would not harm the birds even if they chew it bit by bit, which most of them normally do. It is big and spacious enough to accommodate a pair of small birds like cockatiel or parakeet.
Cons
The lightweight swing is attached to a single hanger, so swaying with a little force could make it rock too much. Putting a heavy toy at the bottom would help to balance it. The price is higher in contrast to its durability and longevity as the mat gets damaged easily when chewed by the bird.
Final Word
The flying trapeze swing with the plastic balls on top would help birds enjoy a good rock and keep themselves entertained.

Top Pick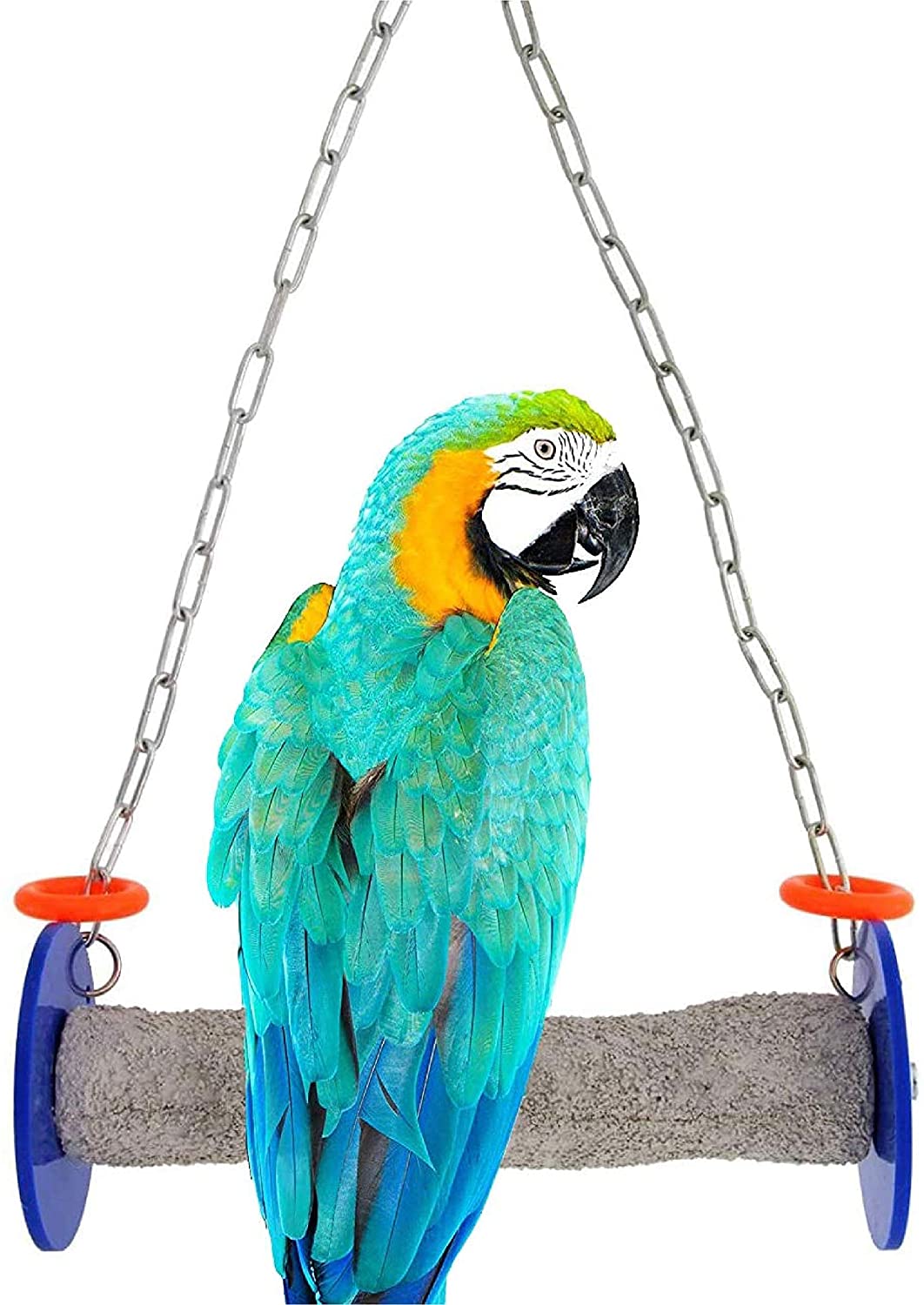 Sweet Feet and Beak Roll Swing and Perch for Birds
Pros
They come in an XL size, perfect for macaws and large parrots. This swing is also durable, having a lightweight base, as well as a zinc-free chain. The chain attached to it is a little long and is easily attachable to the cage via the hooks.
Cons
The perch being a little rough could hurt the bird's feet, and wrapping it with something soft could solve the problem.
Final Word
Durable and washable it gives the birds perfect pleasure, and also stimulates their leg muscles well.