Among the various playthings required to be kept in a bird's cage for physical and mental stimulation, ladders are often prioritized for their multipurpose nature. Before choosing one for your bird, it is important understand their utility, and your bird's needs.
How Does a Bird Ladder Help
The presence of a ladder within a cage helps the bird to exercise and move around flexibly, contributing towards strengthening its feet. It also allows the bird to try a whole lot of tricks and acrobatics to keep it active mentally healthy.
Sometimes, you may choose to use the ladder as the entrance for to its cage so your bird can use it to get back inside after its exercise outside the cage.
5 Things to Keep in Mind When Buying a Bird Ladder
A natural look with vibrant colors that can attract the bird's attention
Easy to assemble or put together
Of a size that can fit into your cage
Suitable for the kind of bird you have, as ladders come in large, small or medium-sizes
Easy to clean, maintain, and move if needed
8 of the Best Ladders for Birds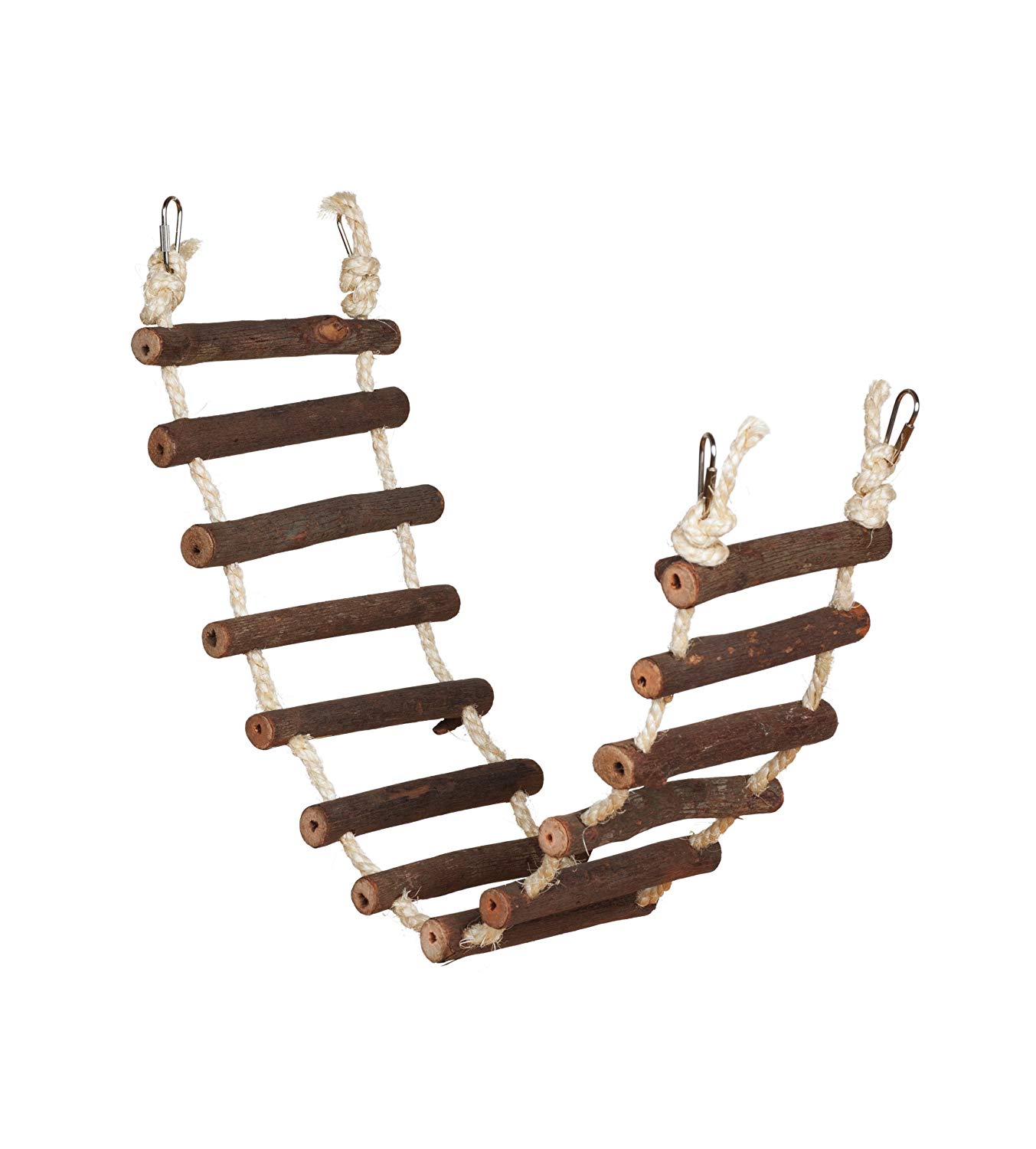 Prevue Hendryx Naturals Large Rope Ladder Bird Toy
Being a rope ladder, it is easy to install and is quite flexible. Large in size, so can be good if you have a large cage with birds like a macaw or cockatoo.

Still, some users have reported the rungs to be loosely fixed on to the rope with glue that could easily come out.N/A
Material:
Wood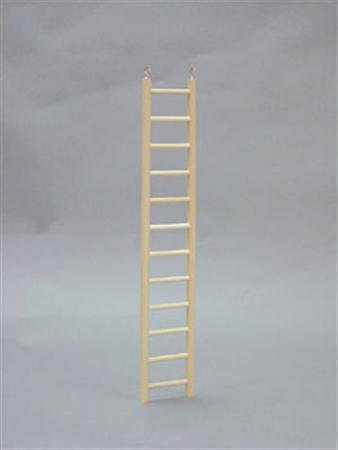 North American Pet BBO22793 Bob Parrot Ladder, 24-Inch
Durable rugged and thick appearance, lasting for long.

Too small for even medium-sized birds like parrots.
Material:
Wood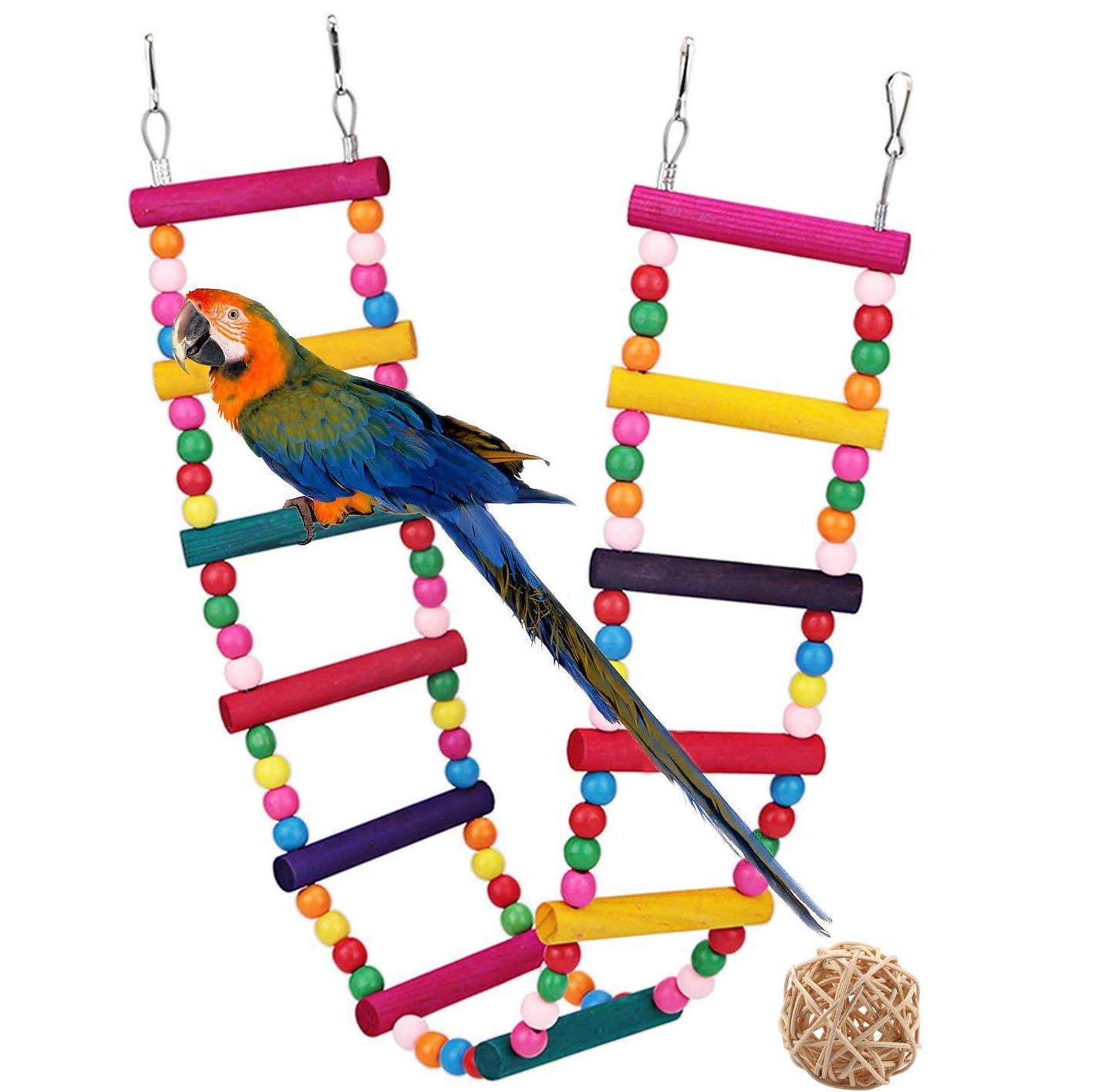 G GANEN Wood Bird Ladder, Parrot Ladder Swing Bridge Parrot Swings, Ladders for Pet Training
Durable built with a colorful appearance, the hanging crawling bridge can work as a swing if the bird wishes. Also, easy to install.

The small balls at the side of the ladder could break, especially if you are using it for birds like parrots that have a habit of poking things. The color might come off, particularly if used as a chewing toy as well.
Material:
Wood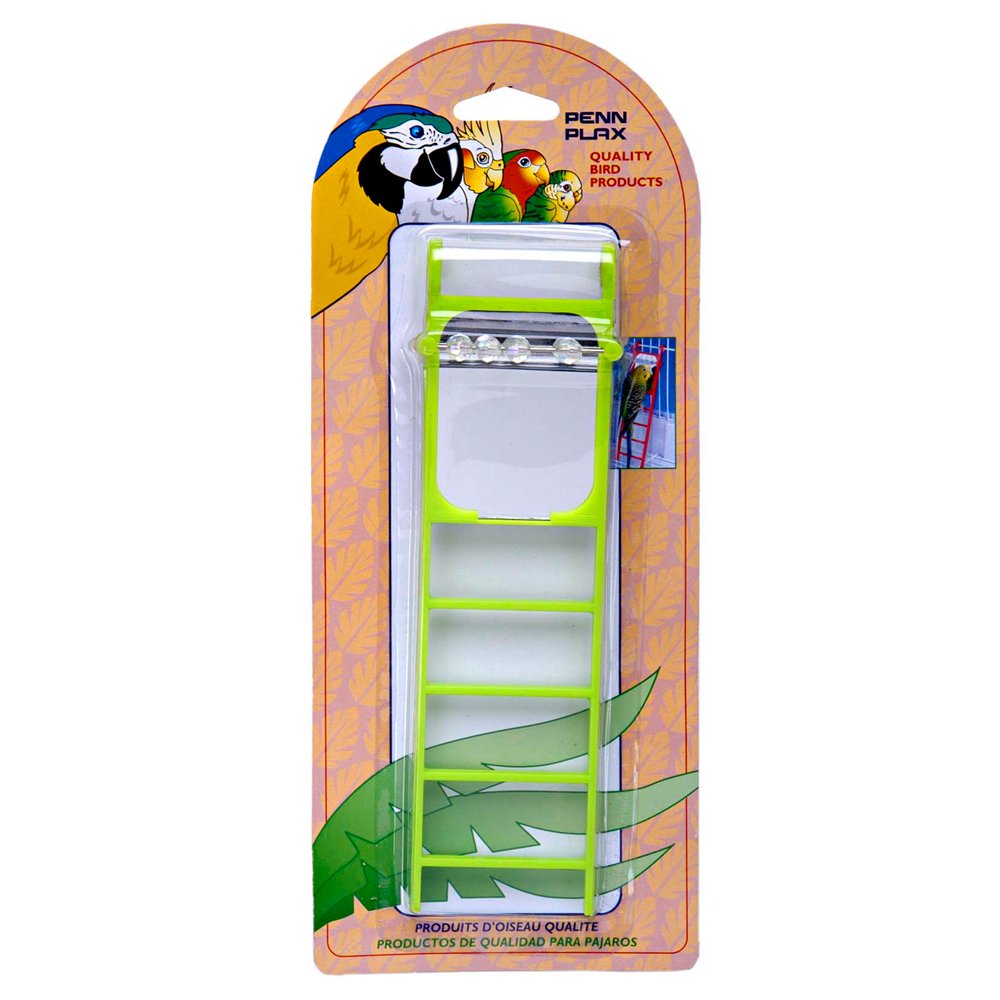 Penn Plax 4-Step Bird Ladder with Mirror
This four-stepped ladder comes with a mirror attached, which keeps your bird occupied. The catchy color and durable build makes it suitable for active birds. Plastic material makes it easier to clean.

Take care not to let your bird spend all its time in front of the mirror, or it might get too attached to do anything else
Material:
Plastic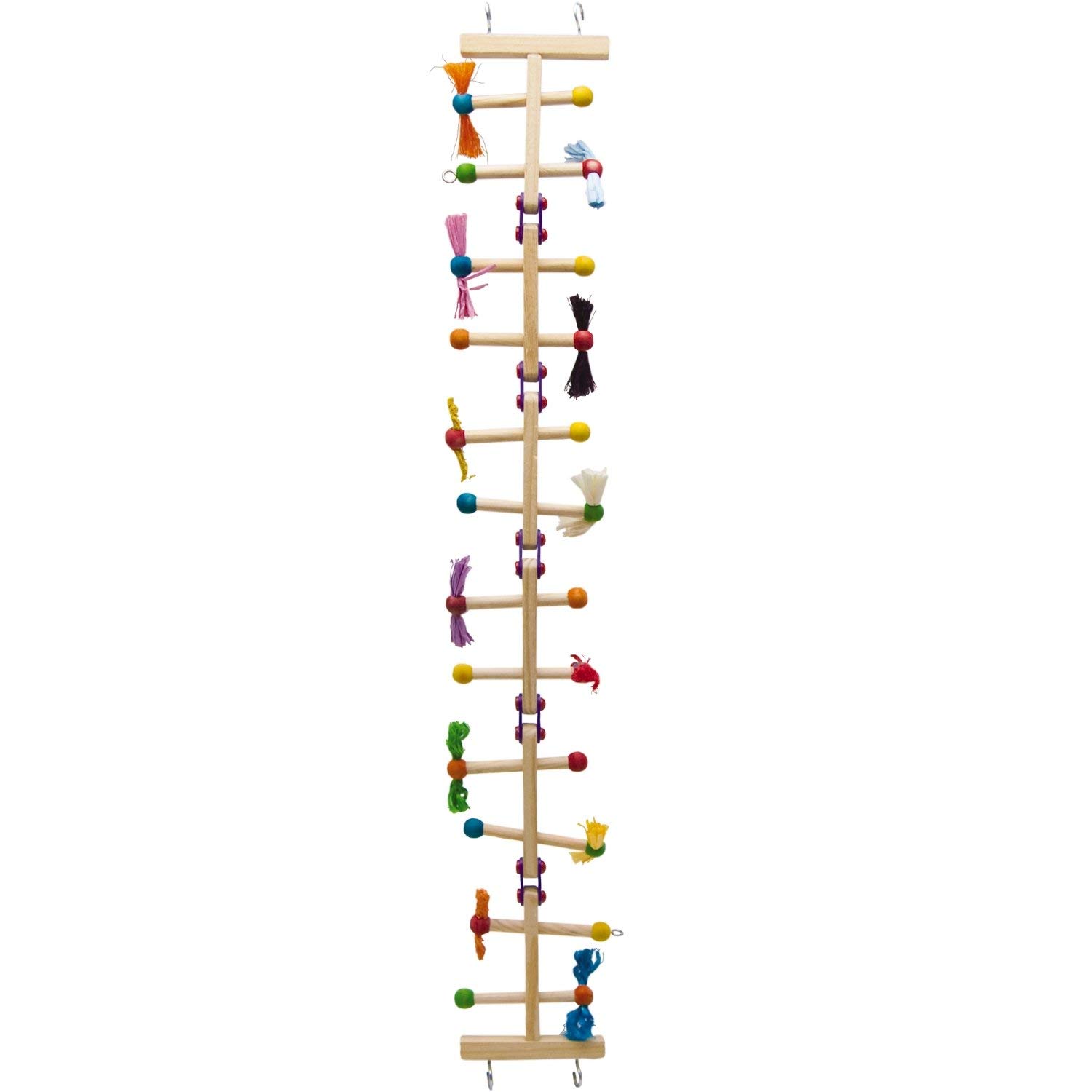 Kaytee Avian Forage-N-Play Ladder
Durable, and well-suited for birds like African greys and conures. The colorful wooden balls, loofah, rope, sisal and shredding paper all keep the bird active and engaged. Can be hung in multiple ways as there are hooks present on both sides of the ladder.

However, you need to check if the hooks are tightly attached, as some users have reported those to come loose, causing the ladder to fall. Unless you make sure they are tight enough, your bird may be in risk of an accident.
Material:
Wood
Prevue Acrylic Bird Ladder
Solid construction and attractive rainbow colors. Easy to clean, the acrylic material makes it a good choice for birds that have serious chewing habits.

Check the size of the ladder and hooks to make sure they will fill into the cage you have, otherwise the ladder may become a little immobile. Some users find the clips a little too tight.
Material:
Acrylic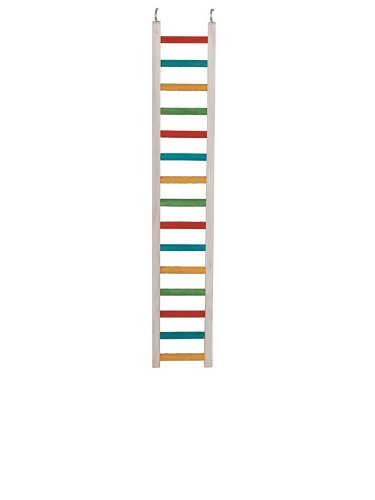 Prevue Pet Products BPV384 Birdie Basics 7-Step Wood Ladder for Bird, 12-Inch
Reasonably durable, easy to install and clean.

Might look long in pictures, but it is suitable for smaller cages and birds like finches and budgies. Not durable enough to survive constant chewing, with some users complaining about the legs falling off within weeks.
Material:
Wood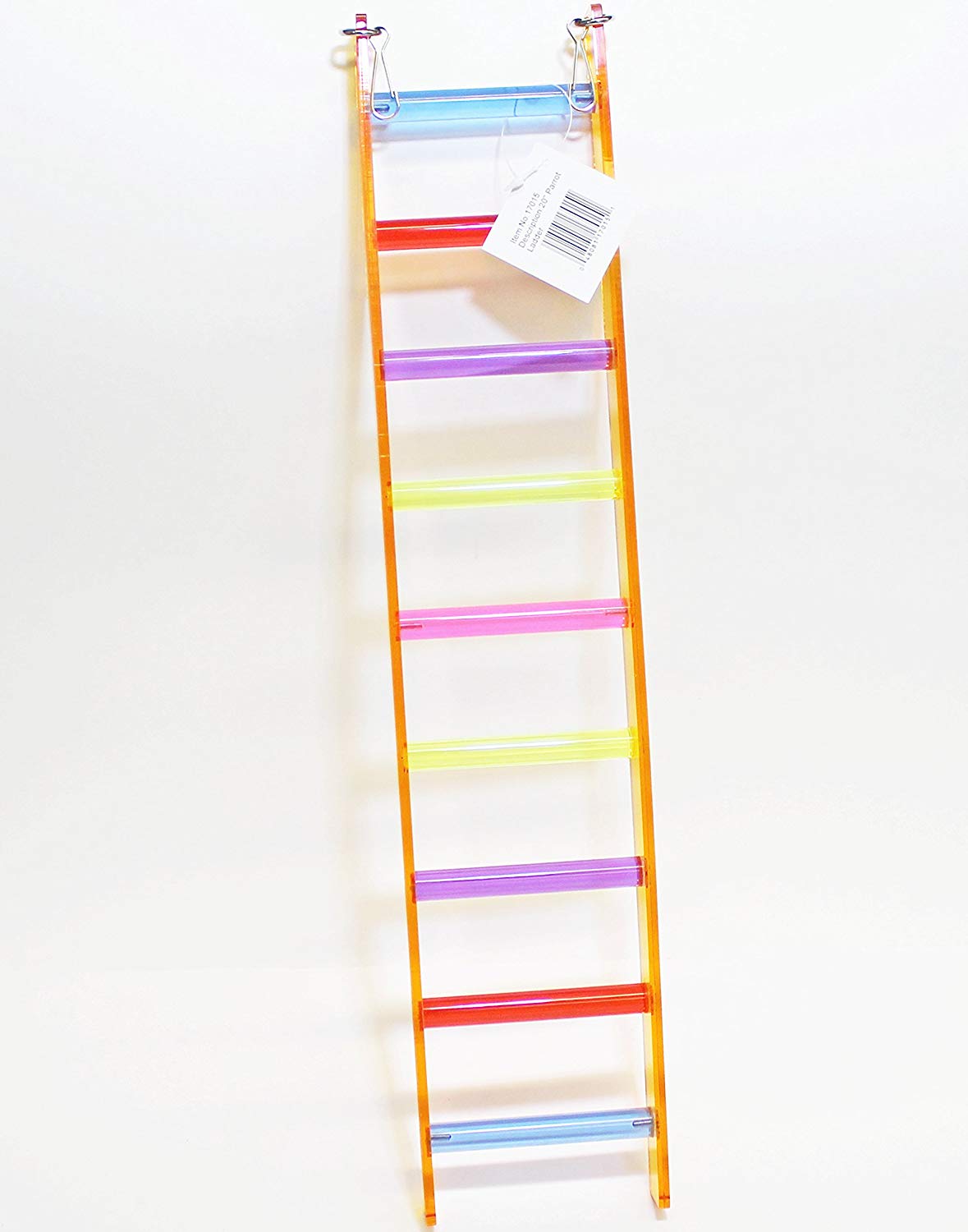 Paradise Toys 36-Inch Wood Parrot Ladder
Suitable for larger parrots, it can be used both vertically and horizontally. Reasonably durable and colorful to keep your birds attracted.

According to some users, the rungs of the ladder were not glued upon delivery, and needed strong adhesive to be fixed.
Material:
Wood
Introducing Your Bird to Its New Ladder
Like in case of any new addition to its cage, you need to give your bird enough time to get accustomed to the new ladder before expecting it to spend extended hours playing with it.
You may also place it near its cage, instead of inside it, so your bird can get used to it during its exercise hours outside the cage. Then, when you put it inside the cage a few days later, your bird is less likely to be fussy about it.
Video of Birds Climbing a Ladder
Every pet comes with a host of responsibilities, and a bird is no different. Providing it with all these necessary toys and accessories is not an indulgence, but a necessity for its wellbeing. Still, if you want to avoid buying one of these fancy ladders, you may make one yourself using popsicle sticks and glue. Make sure none of the material can be harmful for your bird.